Regular price
$69.95
Sale price
$49.95
Unit price
per
Sale
Sold out
Why Homeowners Are Switching Their Outdated Doorbell Cams For This $50 Alternative...
"The Security Benefits Are Insane"!
Terrifying facts -

 
A home burglary happens about every 18 seconds in the US. That number means approximately 4,800 incidences each day! 
These are truly unnerving statistics. If you live in a bad area for now, security is that much more important. 
Even experts are warning,
getting a home video security system helps reduce the chance of being a burglary victim by 60%!
However, the irony with some home security systems is, that while they're protecting you from getting literally robbed, they're figuratively robbing you. It can be
COSTLY to purchase and install cameras and pay for ongoing video storage fees.
But now there's finally a way to help you avoid getting ripped off by shady big companies and give you piece of mind! 
The company has figured out a way to offer a far superior home security camera (even the biggest tech experts agree) at a fraction of the price. 
With break-ins, package thefts, nosy neighbors, and vandalism becoming more and more common, the device is quickly becoming the most sought out security device of 2022.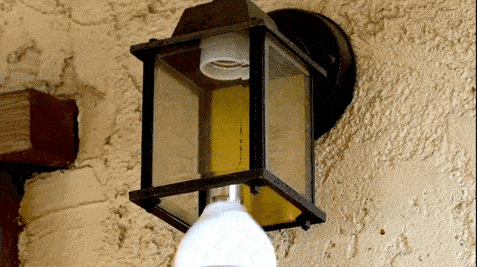 Meet the Light Bulb Security Camera!
The company behind this home security breakthrough recruited top engineers from the electric vehicle industry to build their latest model
Compared to the traditional doorbell cameras which are stuck and don't move, this
records in much higher resolution, can see 360°, has motion tracking, two-way audio, blaring alarms to scare away intruders, night vision, bright lights, controlled by an app on iOS or Android, and doesn't rely on batteries or wires for its power.
The goal was to make a low-cost and low-maintenance security camera unit that is suitable for any home or office. And they succeded, this camera stunned the whole industry with
 

this innovative model of screwing into any standard light bulb socket.
So, what can it actually do? Everything any other security camera can - record in HD, track motion, talk to people through the camera from your phone, etc, etc, etc...
But what makes this Light Bulb Security Camera special is it doesn't need wires or batteries to operate, and it's extremely portable.
With no installation costs, no maintenance costs and
no monthly cloud storage fees
- you will save a bundle this year. 
This is the next generation of home security cameras!
What Makes It So Special?

What makes the Light Bulb Security Camera so unique is its ability to use
 

advanced motion tracking to follow anyone or anything it sees for 360°!
 
Unlike your doorbell camera that can only see in one direction and can't move, this camera moves all around.
 

And unlike the doorbell cameras, peephole cameras, etc. is that it doesn't require any batteries. It just hooks right in to your standard light bulb socket, syncs to your WiFi, and allows you to record in real time in 360° degrees all around your home, keeping an eye on everything and every one.
How Does It Work?
The company behind the Light Bulb Security Camera created a sleek design that fits into any lightbulb socket anywhere, with plenty of room to allow the camera to move in all directions while still remaining discreet.
It's really easy to set up. Just:
1.
Unpack the Light Bulb Security Camera
2.
Download the app
3.
Scan the QR code on the camera so it connects to the app
4.
Connect to your WiFi
5.
Then screw in the camera wherever you want to keep an eye on! That's it!
It's the easiest to install security camera on the market.
What exactly can the Light Bulb Security Camera do?
✅ Connect To Any Device -

 
Works with both iOS and Android Devices.

✅ Rotate 360° -

 
Use your phone to rotate the camera to see what's going on in all directions.

✅ Crystal Clear 1080P Resolution -

 
See what's happening at your home in the highest quality resolution.

✅ Use 2-Way Audio to Talk To Anyone From Your Phone -

 
Built-in high quality mic and speaker, this home light bulb camera allows you to use the Two-Way Audio function to talk with the person on the screen and hear them talk back.

✅ Set Off A Blaring Alarm To Scare Away Intruders or Animals -

 
With the press of a button you can set off a deafening alarm to scare away any unwanted visitors.

✅ Use Night Vision To See What's Happening In The Dark -

 
This camera comes fully stocked with night vision so you can still see what's happening at night.

✅ Super Bright LED Light -

 
Even though it's a camera, it's still a light, and will use its super bright LED lights to light up any dark space.

✅ Built In Motion Tracking Watches For You -

 
Not watching through your phone? Don't worry, this camera comes with built-in motion tracking so you never miss a moment.

✅ No Wires or Batteries -

 
This camera uses the electricity from the light socket, so it has an infinite amount of energy and will never die.

✅ Extremely Portable -

 
Unlike built-in doorbell cameras, you can take this with you anywhere. Great for traveling and renting Air BnBs.

✅ Scares Away Bad Guys -

 
The moment bad guys see this camera looking down at them, they'll run the other way.
View up to 4 cameras simultaneously!
Inside the app and with multiple cameras, you can select the multi-view function that'll show 4 cameras at the same time, giving you full range of view.
One thing is for certain, once you try the Light Bulb Security Camera, you'll never want to go back to life without it!
Some questions we've had: 
Q:
Does Light Bulb Security Camera Have A Money Back Guarantee?
A:

 
YES! They're so confident in their product that they give you 30 days to try it out, and if it doesn't work or you don't like it, just send it back for a full refund.

 
Q:
Does it require any installation?
A:

 
No, it works directly out of the box and is really simple to use. You will have it recording to your phone in under 3-minutes.

 
Q: Do I need to buy my own batteries?
A:

 
No, the light bulb security camera doesn't use batteries, so you won't have to worry about recharging or buying batteries to keep your security camera online.
 
Q: Will it fit in any light bulb socket?
A:

 
Absolutely yes. This camera is designed to fit into most standard light sockets in the US and CA. And if for some reason it doesn't fit into yours, you can return it for a full refund within 30-days of your purchase.

 
Q: Can I monitor the camera from my computer?
A:

 
Absolutely yes. Just download the app on the google play store that allows you to view the camera and all of its settings on your PC or laptop. Also compatible with mac.
SPECIFICATIONS:
Size:
 7.72 x 4.06 x 1.93in / 19.5 x 10.1 x 4.9cm
Base Type:
 E27 / E26
Resolution:
 FULL HD (1920 x 1080p)
Power consumption:
 5W
Waterproof rating:
 IP66 (Not suitable for putting directly into the water)
View full details